Sale!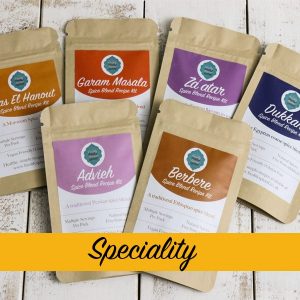 Speciality Spice Blend Set & Tin
Speciality Spice Blend and Tin set is great for anyone who loves to try new authentic flavours. Containing 6 unique blends with a range of delicious recipes online. We have recipes for tagine's, dips, marinades, tofu flavourings, curries, salads and much more. The focus is on simple, healthy meals packed with fresh vibrant spices.
Check out our recipe page and feel free to create your own dishes and share with us.
Our Speciality selection includes:
Ras El Hanout
Garam Masala
Za'atar
Advieh
Dukkah
Berbere
Comes in 25g Pouch, providing 2 people around 3 servings
Order dispatched within one working day, delivery up to three working days
not rated
Select options