Sweet Spice Blend
With a variety of recipes to create cakes, biscuits and even as a coating on homemade popcorn. It adds a totally different take on many well known recipes to spice up your sweet dishes. 
It has hints of Turkish and Indian inspiration with rose petals, cardamom and allspice berries adding different styles of sweetness. 
As always our blends are vegan friendly.
Order dispatched within one working day, delivery up to three working days
£

2.00 Inc VAT
Add to basket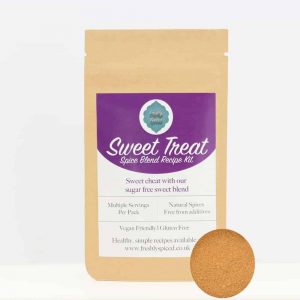 Sweet Treat Spice Blend
Sweet Treat offers something very simple, yet very different. Taking fresh spices and blending them to create a warming blend. No sugars for a sweet cheat option adding flavour to yoghurt, spicing up sweet pies or making spiced ice cream
Can also be used in porridge and rice pudding
Comes in 25g Pouch providing 2 people around 3 servings
Order dispatched within one working day, delivery up to three working days
not rated
£

2.00 Inc VAT
Add to basket