Sale!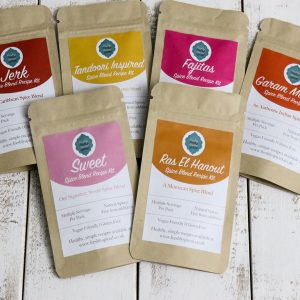 Deluxe Spice Blend Variety Pack Subscription (any 6 packs-every 2 months)
A pack to cover multiple meals, containing 6 spice blends, you choose which ones you want and let us know! 25g pack size will give approx 2-3 servings per 2 people.
Our 2 monthly subscription gives 6 packs, you tell us which 6 you want in the notes and we'll send them out, if you need to make changes or want to try others just let us know
Allowing customers to make many dishes and experience many new flavours.
Pick from:
Choose from:

Jerk blend
Garam Masala
Fajita Blend
Kebab Blend
Indian Egg Blend
Tandoori Blend
Ras El Hanout Blend
Spiced Burger Blend
BBQ Blend
Vegan Burger Blend
Spaghetti Spice
Turkish Drinking Spice
Chilli Blend
Sweet Treat
Sweet Blend
Check out our recipe page and feel free to create your own dishes and share with us.
All blends are great with various meats or as vegetarian dishes.
Order dispatched within one working day, delivery up to three working days
Comes in 25g Pouch, providing 2 people around 3 servings
Add to basket, click proceed to checkout and add your choices in the notes box
not rated
every 2 months
Subscribe Now