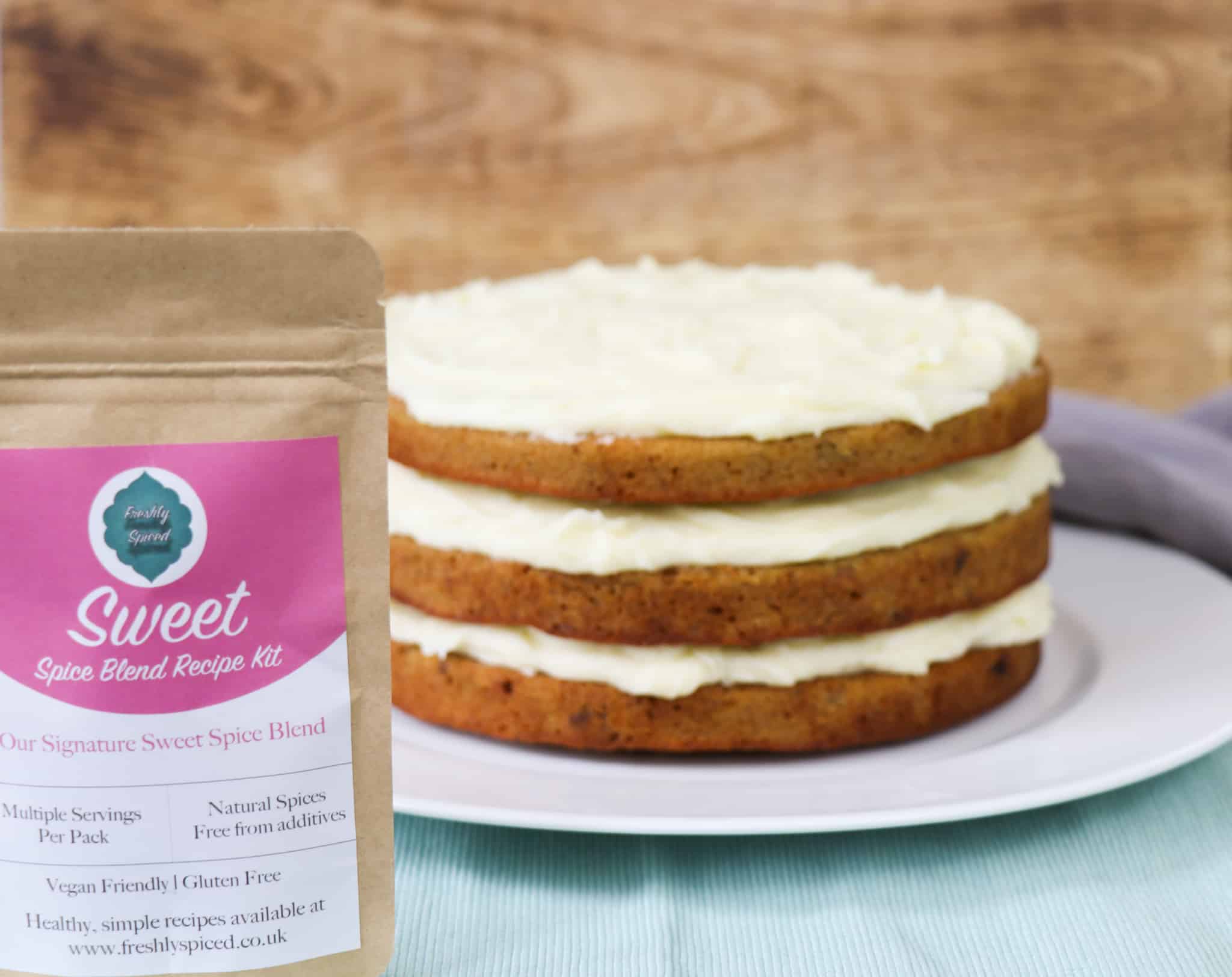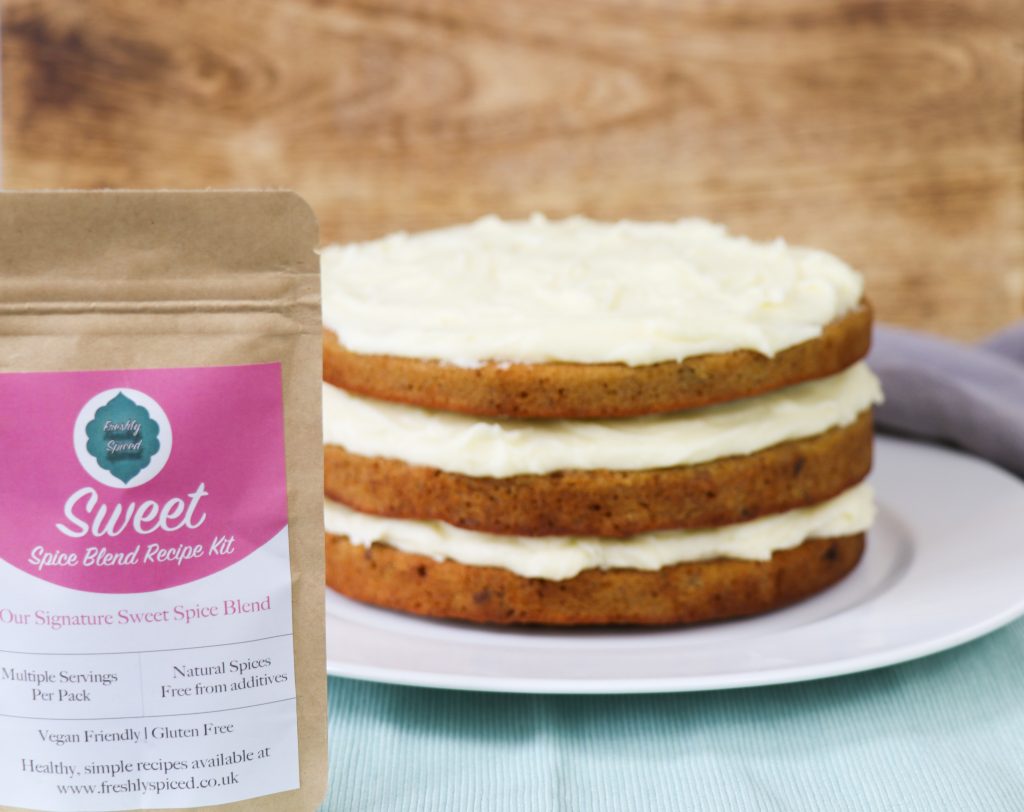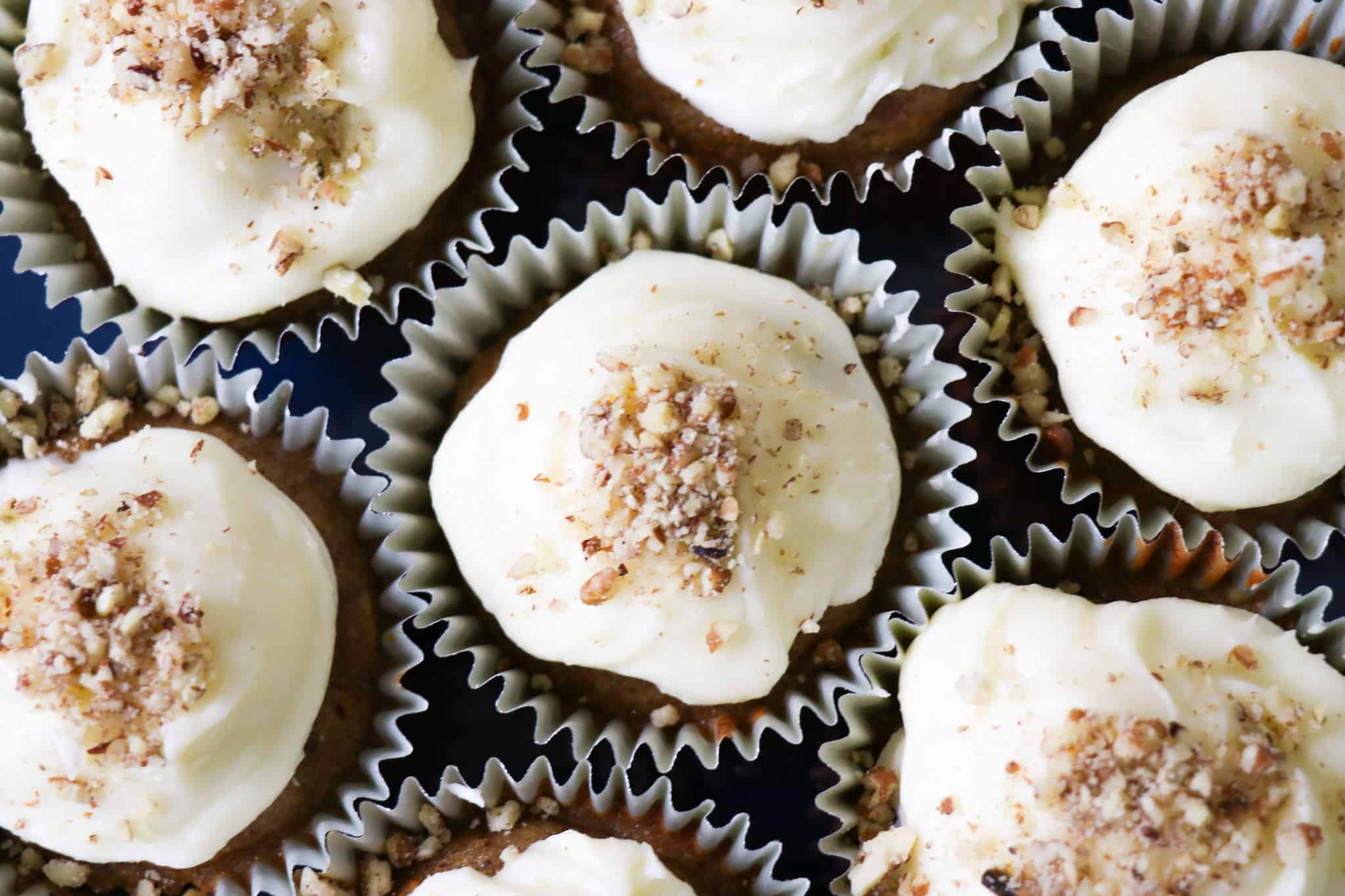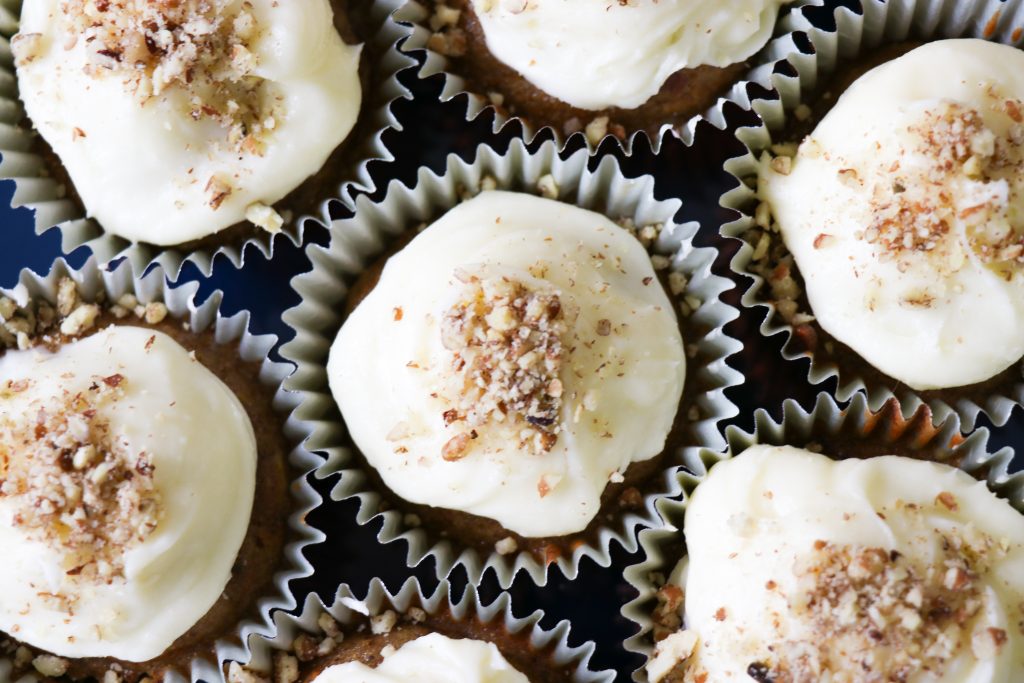 This Middle Eastern Spiced Carrot Cake & Cupcake Recipe is super easy and is enhanced with our Great Taste award winning Sweet Spice, replacing a normal mixed spice and bringing more of a Middle Eastern feel with rose petals, cardamom, cinnamon and more for warming flavours. The mix makes enough for one good sized cake and a batch of 12 cupcakes. 
Serves 8-16
Prep Time: 30 minutes
Cook Time: 30minutes
INGREDIENTS
230ml Vegetable oil
100g Natural Yoghurt
2 tsp Vanilla extract
4 Eggs
1/2 Orange, zested
265g Self raising flour
340g Muscovado sugar
270g Carrots, grated
100g Sultanas
100g Pecans blitzed into a coarse powder mixture
For the icing:
200g Butter, softened
600g Icing sugar
200g Soft cheese
INSTRUCTIONS
Preheat oven to 180C/ 160C Fan
Oil and line the base and sides of 2 or 3 18cm shallow cake tins and 12 cupcake cases with baking parchment.
Whisk the wet ingredients – oil, eggs, yoghurt, zest and vanilla in a bowl.
In another bowl combine the dry ingredients- flour, sugar, Freshly Spiced Sweet Spice and a pinch of salt. Mix with your hands and combine any lumps of sugar into the mix.
Now mix the wet and dry ingredients in a large bowl with the carrots ,sultanas and half the pecans. Combine between the 2 or 3 tins and the 12 cupcake cakes.
Bake for 18-22 minutes (less for cupcakes – around 15-18 minutes). Insert a skewer in the centre and check if comes out clean, if mixture sticks to skewer leave in the oven and check every 3-5 minutes.
Leave to cool in the tins
To make the icing, beat the butter and icing sugar until smooth. Add in the soft cheese in stages, usually around 3 stages to ensure it fully mixes and doesn't split.
Remove the cakes from tins and add a good layer of butter icing on top of one, before sandwiching the two or three layers together. Top the cake with more icing, leaving enough for the cupcakes.
For the cupcakes, put icing on each one, enough so you can smooth it round but it doesn't touch the edges.
Sprinkle the remaining pecans on top and enjoy!