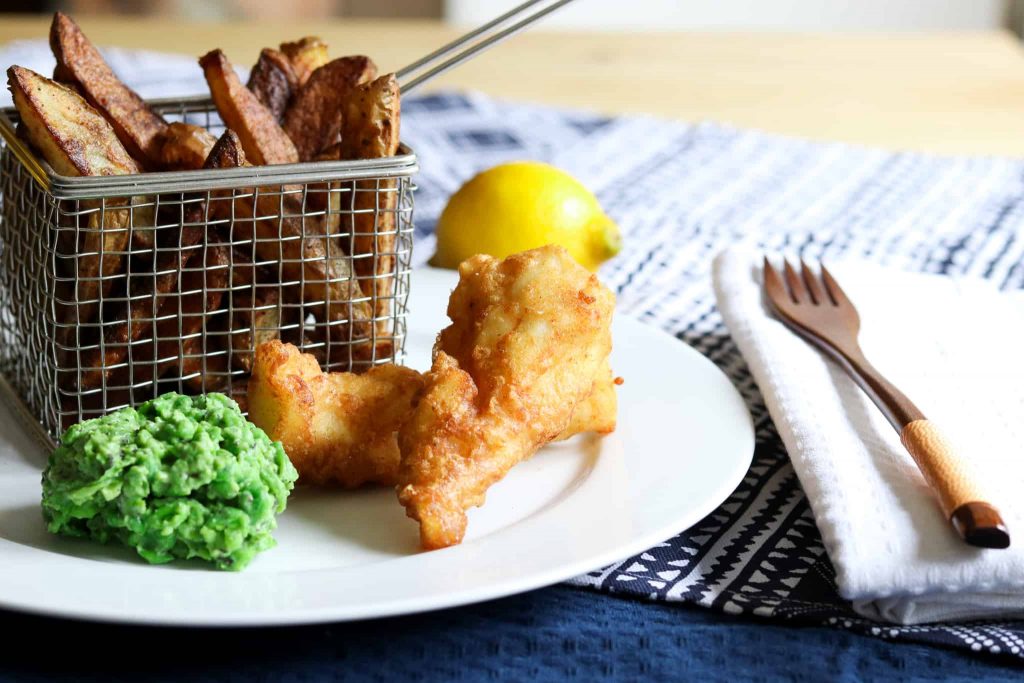 Middle Eastern Fish and Chips.
Recreate a British favourite with a twist from Middle Eastern cuisine. Add some of our Advieh Spice Blend to create a totally different flavour. This recipe is much healthier than a takeaway and takes a short amount of time to prepare and cook. 
Serves 4
Prep Time: 15 minutes
Cook Time: 35 minutes
INGREDIENTS
For the Fish & Batter
250g of your choice of fresh Haddock or Cod Fillets (boned and skinned), cut into large goujon sized pieces
1/2 Cup plain flour
1/2 tsp Baking powder
1/2 tsp Salt
1 tsp Advieh Spice Blend
1/4 cup of water
1/4 cup of milk
A little extra flour to dust the fish before placing in to batter
Sunflower/Vegetable Oil (enough to fill 2/3 of a pan)
For the Chips
3-4 baking potatoes cut in to 1cm cube strips (skins on or off)
2 tsp Advieh Spice Blend
Olive Oil
For the Mushy Peas
200g cooked peas
1-2 tbsp Creme Fraiche
1 tbsp Mint Sauce
INSTRUCTIONS
Pre heat your oven to 200C
Combine the sliced potatoes in a bowl with some oil and Advieh spice.
Spread onto a baking tray and place in the oven for around 35 minutes (turning halfway through)
In the meantime, put the extra flour into a bowl and place the fish pieces into the flour, covering each piece
In another bowl place all the dry ingredients for the batter and mix well.  Make a well and slowly add the milk and water, whisking to avoid lumps.
When ready, heat your chosen oil in a pan.  Place fish fillets in the batter, lift each piece individually to drain off any excess.  Carefully place the fillet in the hot oil and cook for approximately 4/5 minutes.  Continue until all the fillets are cooked.
Peas
Mash the cooked peas in a bowl, add in the Creme Fraiche to your desired consistency,add the mint sauce and mix well.
Serve and enjoy!