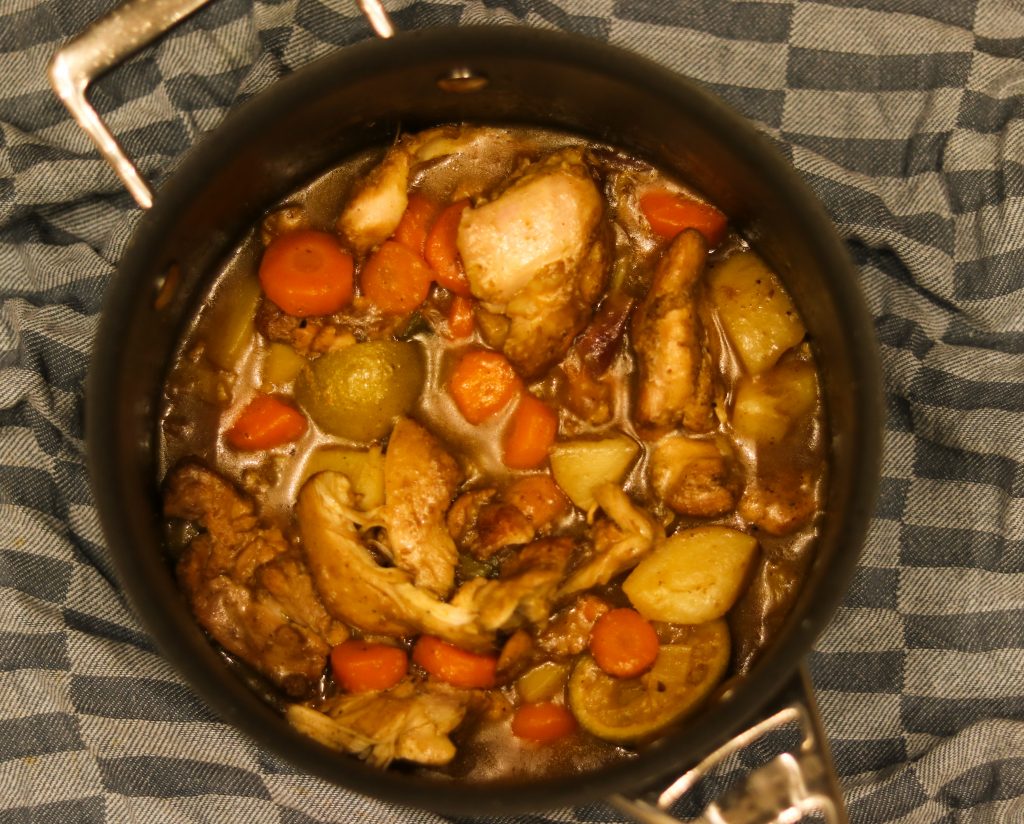 This Colombo Spiced Chicken Recipe is really wholesome and somewhere between a West Indian curry and a stew. It takes about an hour to make in total and can be served on its own or with rice.
Serves 4
Prep Time: 15 minutes
Cook Time: 45 minutes
INGREDIENTS
4-6 Chicken thighs, skin removed and can be with or without the bone
1 Red Onion finely sliced
2 Carrots roughly chopped
3 Spring onions chopped
3 Medium sized potatoes peeled and cut into quarters
3 Cloves garlic crushed
1 Lime
200ml Chicken stock
200ml Coconut milk
INSTRUCTIONS
In a large pan add 1 tbsp olive oil and once heated up add in the chicken thighs, brown the chicken off for around 8-10 minutes and then remove and place to one side.
In the same pan add the red onions and garlic, you may want to add a little more oil.
Add the chicken back to the pan with the potatoes, carrots, spring onions, stock, coconut milk and juice from the lime. Stir through and season.
Bring to boil and then reduce to simmer before covering.
Leave for 20 minutes, stirring occasionally.
After this remove the lid and cook for the remaining 15 minutes with the lid off to reduce the liquid down into a thicker sauce.
You can get your rice cooking at this point.
Check the pot and stir well in the last 5 minutes to prevent sticking or over cooking and serve when the chicken is falling to pieces.