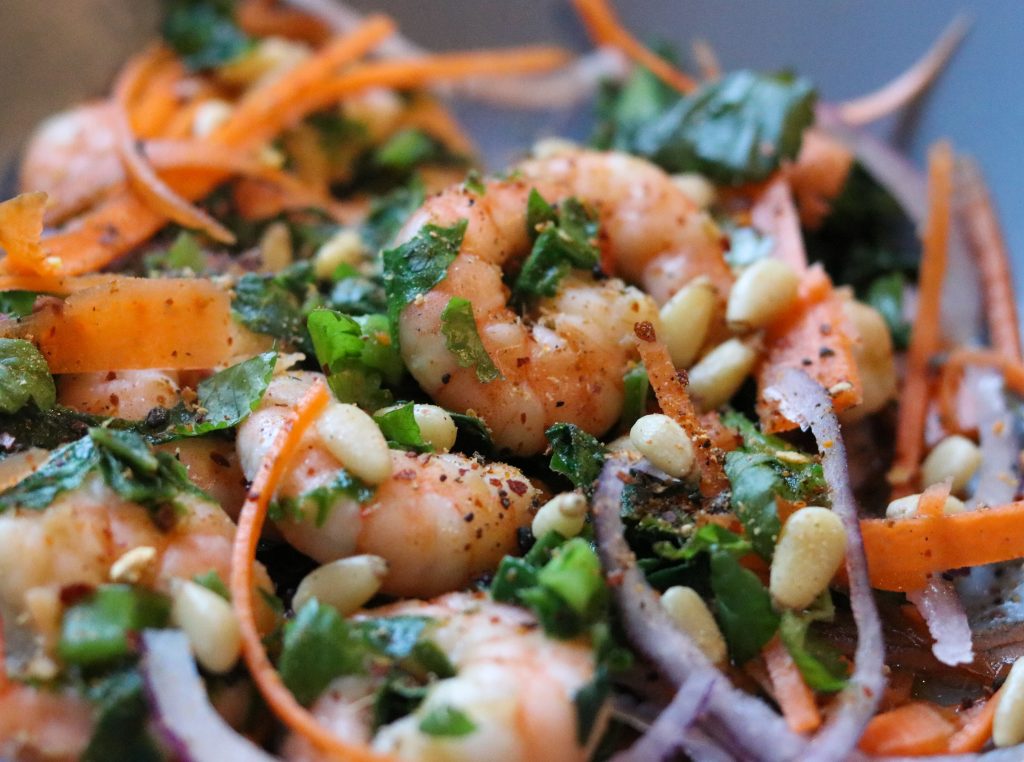 With a combination of textures and flavours this Prawn Togarashi Salad Recipe is the perfect alternative to a traditional salad. Crunchy pine nuts, onions and carrots compliment the hot, sweet, salty coarse ground spice and prawns.
Serves 2
Prep Time: 5 minutes
Cook Time: 10 minutes
INGREDIENTS
200g Fresh king prawns
1 Red Onion finely sliced
1 tbsp Soy sauce
1tbsp groundnut oil
1 tbsp honey
1 Carrot peeled into strips
200g Spring greens
1cm Fresh ginger finely sliced
Small handful of pine nuts, light toasted in a pan for about 2 minutes
INSTRUCTIONS
In a large frying pan dry roast the pine nuts for a couple of minutes and then set aside.
Add a tbsp of groundnut oil to the pan, once heated up add in ginger and soften for a minute.
Then add in the spring greens and stir through for a minute before adding the prawns and soy sauce.
Cook for a couple of minutes before adding the honey, stir and heat for a further minute or two until the prawns are fully cooked.
In a bowl combine the red onion, carrot and ingredients from the pan, sprinkle over the pine nuts and finally the
Shichimi Togarashi
.
You may want to add more of it but due to the heat do be cautious with the amount you add.