Quick Tofu Stir Fry Recipe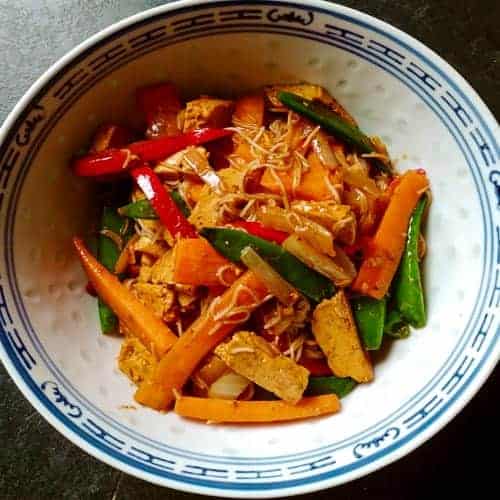 Tofu Stir Fry
Try our quick, yummy tofu stir fry. It is a great source of protein and you can pack it full of vegetables.
Enhanced with our Five Spice Blend to add plenty of flavour. You can easily swap to use chicken, prawns or Quorn.
Serves 2
Prep Time: 10 minutes
Cook Time: 10 minutes
INGREDIENTS
250g Tofu Sliced into strips
1 Red Pepper Sliced into strips
1 Onion sliced
2 cloves Garlic crushed
1 Carrot sliced into strips
Handful of Sweet Peas
2 tsp Five Spice
2 Servings of noodles
4 tbsp dark soy sauce
1 tbsp sesame oil
INSTRUCTIONS
Prepare all the ingredients.
Get your wok or heavy based pan onto a high heat add a good glug of groundnut oil/olive oil/Rapeseed oil.
Leave to heat up and add in the onion, fry for a couple of minutes.
At the same time have another pan going with boiling water to cook your noodles (refer to individual noodle instructions as some vary). Get the noodles cooking.
Add in the garlic, peppers, carrots and sweet peas and continue to fry.
Then throw in 1tsp of Five Spice and a couple of tbsp of soy sauce, fry for a minute.
Finally add the Tofu and cook for the desired time adding the remaining tsp of Five Spice.
Cook for around 5 minutes, depending on how much crunch you like your veg to have (leave for longer if you want it less crunchy).
By now your noodles will have been cooked and you can drain and either serve separately or add into your stir fry. If adding to the stir fry add in the remaining soy sauce and sesame oil at this point.