Dukkah Spice Blend
£2.00 Inc VAT
Our Dukkah Spice blend create's a taste of Egyptian cuisine with the freshest ingredients.
Fresh flavours from herbs and spices. Spice up your salads, make amazing dips for breads or add to yoghurt. This goes great on chicken, fish or to flavour tofu!
Try our Dukkah Chicken Recipe
Comes in 25g Pouch, providing 2 people around 3 servings
Order dispatched within one working day, delivery up to three working days
Categories: Middle Eastern Spices, Spice Blends
Tags: dukkah, dukkah chicken recipe, Dukkah mix, dukkah spice, easy meals, easy recipes, Egyptian Spices, ethiopian spices, Hazlenuts, healthy recipes, marjoram, middle eastern, middle eastern spices, natural spices, Recipe kits, slimming world spices, weight watchers spices
Related Products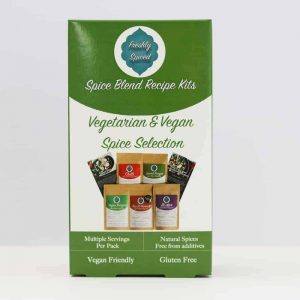 Vegetarian & Vegan Spice Selection Gift Box
Our Vegetarian & Vegan Spice Selection Box is a great way to add flavour to any meal with 5 vibrant spice blends to create falafel, season tofu, make delicious chilli con carne, and much more. Containing 5 unique blends with a range of delicious recipes online. The gift box includes two recipe cards to get you started on making delicious meals and you can find many more recipes online.
The focus is on simple, healthy meals packed with fresh vibrant spices.
Check out our recipe page and feel free to create your own dishes and share with us.
Our Vegetarian & Vegan Spice selection includes:
Chilli Spice Blend
Vegan Burger Spice Blend
Za'atar
Ras El Hanout ( Great Taste Award Winner)
Spiced Burger ( Smokey flavours for tofu seasonings)
Comes in 25g Pouch, providing 2 people around 3 servings
Order dispatched within one working day, delivery up to three working days
not rated
£

12.00 Inc VAT
Add to basket